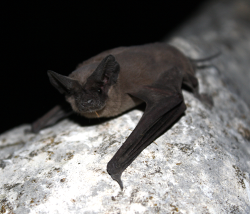 Bat Control, Trapping & Removal Services
We can rid you of Bat problems safely and efficiently
Dallas Bat Removal
Bats can be quite disruptive when they're flitting around your Dallas chimney and/or attic. Trust Trutech of Dallas to get bats out of your attic and bat-proof your home so they don't come back with effective bat control and bat removal services. As soon as bat removal has been performed in your Dallas home, your skilled Trutech of Dallas technician will inspect your home in order to locate potential entry points. Once the entry point has been found, our licensed technician will provide a recommended bat exclusion plan.
Bats are responsible for spreading a number of diseases (such as rabies) and transmitting parasites to pets and humans alike. Bat scratching can be disruptive to your everyday routine and bats in the attic leave droppings that can actually lead to the decay of flooring. Our wildlife removal specialists are licensed and ready to perform humane bat removal in your Dallas home, attic, or yard. We offer the best bat control services in the area and we guarantee that your bats will be gone for good.
Here at Trutech of Dallas, we are satisfied when you are satisfied. Our bat technicians know that when it comes to bat removal and bat management, time is of the essence. With the assistance of a Trutech bat specialist, you can be comfortable knowing that your Dallas home is protected by bats and the hazards associated with them. Our environmentally-sensitive bat removal will help you sleep soundly knowing all your wildlife problems have been addressed thoroughly.

ANIMAL SOUNDS

ASK A TECHNICIAN ABOUT Bat Control
Learn More

APPEARANCE
Rather than proper "arms", bats have wings that reach from their bodies to their arms. Their thumbs are helpful to aid in climbing and grabbing food. Bats' poor eyesight leads them to instead depend on their hearing (using echolocation) to find food in the dark. Sound waves bound off objects and the bats' ears pick up the frequency. Some bat species have small noses and some look more like pig snouts.

DIET
Bat diets mostly comprise insects. The little brown bat, one of the most common bats in America, even catches prey like insects out of the air. Other species of bats eat fruit, nectar and small amphibians and reptiles.

HABITAT
Bat habitat depends upon which species it is. Some bats don't like forested areas, instead preferring human-inhabited areas. These bats can be found in buildings like barns, attics, churches, hollow trees and more. Bat species that do like tree cover find ideal roosting under tree bark and on trees. Contact us to learn more about our bat removal and exclusion services.